Playing Heavy
Although Erle Stanley Gardner never got around to describing to his readers what Perry Mason really looked like, he did once say that Perry gave the impression of "bigness." Burr fit this bill. During the show's heyday, Burr weighed in at 210 pounds, packed into an extra large 6-foot-2-1/2-inch frame. "A massive inverted pyramid" is how one TV writer once described him.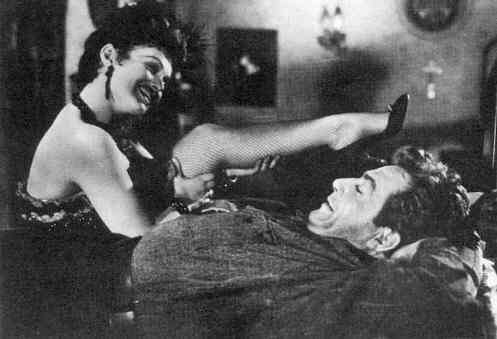 Shortly before he would debut as Perry Mason, Raymond Burr was being tempted by the leg of a showgirl in The Brass Legend, one of the actors ninety-plus movies made before he came to TV. Courtesy of Jerry Ohlinger's Movie Material Store
But, compared to his earlier years, that would qualify as a economy-sized pyramid. Always plump as a child, Burr remained heavy into his teen years and by the time he was discharged from the navy after World War II, he was lugging around 340 pounds. After the war, he realized that this battle of the bulge was getting in the way of his dream to be a movie star. With a grim determination that would surface many times in his professional and personal life, the actor checked into a shabby Hollywood rooming house and stayed there, prescribing for himself a spare diet of 750 calories a day. He stuck to it, forcing down only cottage cheese and little else for more than six months. When the self-imposed exile was over, he had lost 130 pounds. His fighting weight down in the low 200s, he commenced to take on the acting world.
Burr portrayed a psychotic killer obsessed with Natalie Wood in A Cry in the Night, released in 1956. Courtesy of Jerry Ohlinger's Movie Material Store
In fact, when he was chosen to play the killer in Rear Window, Burr had to wear padding to make him appear bigger. However, this was a temporary situation. Burr would continue to fight his chubbiness for some time to come.