With Friends Like These . . .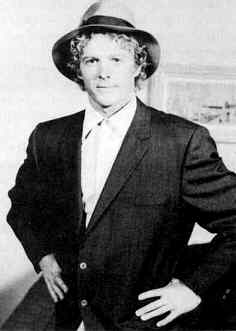 William Katt, barbara Hale's son, portrays Paul Drake, Jr. in the highly successful made-for-TV "Perry Mason" movies. Courtesy of Capital Newspapers
Perry is friends with the dead man's wife Jennifer O'Neill), so it's a shock when he agrees to defend McKay. He summons Della and Paul, Jr., to help. As usual, the suspect list is a long one: There are a few dissatisfied colleagues of McKay (Ron Glass of "Barney Miller" plays one) who may have switched the fake bullet for a real one, just to land McKay in jail. Then, there's McKay's girlfriend, and the stunt man on McKay's movie. Both seem suspicious, as does the director of the Steve Carr Show. Finally, Perry must interrogate his friend, the dead man's wife, and even his stepdaughter, who happens to be a fashion model.
Typically, the plot twists and turns. There are a school of red herrings to account for. Paul gets mixed up with a National Enquirer-style woman reporter and winds up playing the vampire killer in a low-budget monster movie. Della and Perry chase a young man suspected of stealing from a movie studio a can of film that may contain incriminating evidence, but when Della grabs the guy, all she gets is a handful of green makeup for her effort.
Finally the action moves to the courtroom (where "Hogan's Heroes" alumnus and occasional original Mason episode actor Ivan Dixon presides as judge). Perry is once again up against DA Michael Reston (David Ogden Stiers), who must have just been passing through New York.
One by one, Perry grills the most likelies. Some outtake footage of a scene from McKay's movie proves to be the key

Perry spots the murderer in a crowd of onlookers. Naturally, it's not his client. Perry gets the real killer to 'fess up

sadly, as it turns out, because the killer is a friend of Perry's. It seems that the murdered Steve Carr had made more enemies than even Perry had bargained for.
If the movie isn't the greatest, plot-wise, that's almost secondary. Perry Mason as played by Burr is the main attraction here, and the magic is everywhere. As People magazine TV writer John Stark put it: "Although it's often sad to see a performer continually reprise the same character, no one, but no one, can play Mason better than Burr." And the same goes for Barbara Hale as Della.
This third effort at updating the world's most famous lawyer won in the ratings, too. Of the top ten shows that week, Perry came in at a very successful Number 7.
Teleplay by Anne Collins
Story by Dean Hargrove and Joel Steiger
Directed by Ron Satlof