How to Marry a Cowboy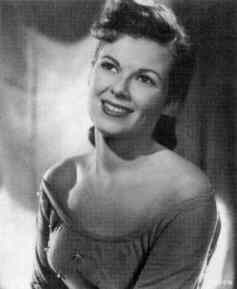 From the comic strips to Hollywood: Barbara Hale in an early RKO publicity photo for The Boy with the Green Hair. Courtesy of the Cinema Shop
What do Barbara Hale and Frank Sinatra have in common? They both made their film debuts in the same movie. The picture, Higher and Higher, was released in 1943. A musical comedy that also starred Victor Borge and Jack Haley, it's the story about a man who, having gone broke and finding no money to pay the servants, decides instead to form a corporation with them. At the very least, Barbara looked good in the film. It led to other roles.
Next came West of the Pecos, a 1945 RKO Western, in which she received costar billing with Robert Mitchum. Another member of the cast was William Katt, better known by the stage name Bill Williams. According to Barbara, it was love at first sight. She finally roped Williams in 1946. "It took me two years to talk him into marrying me," Barbara told TV Guide in 1962.
Williams became a familiar face on 1950s and 1960s TV. He starred in "The Adventures of Kit Carson" in the early fifties, then later costarred with Betty White in a sit-com called "A Date with the Angels." In 1960, Williams explored the deep in the lead role on "Assignment Underwater." In 1977, he did a Saturday morning kiddie show about a horse called "Thunder." Between series obligations, Williams continued to appear in films and did guest spots on TV shows, including the Mason show ("The Case of the Wounded Cougar," and "The Case of the Twelfth Wildcat").
Williams and Hale had three children, one of whom, Bill, was born in 1951.* The young Bill Katt's face is also familiar; he starred as Sissy Spacek's "boyfriend" in Carrie. Katt then went on to play the lead role in the short-lived (1981-82) but still almost cultishly popular "The Greatest American Hero" on ABC. But among the acting jobs young Katt has had, maybe the most notable was starring with his famous mother. Displaying a touch of class, the producers of the new made-for-TV Perry Mason films have cast William Katt as Paul Drake, Jr., an up-to-date gumshoe who would make his old man proud.
Like her husband, Barbara eventually went on to TV in the early fifties. One early appearance was in a 1952 Ford Theatre production. Other jobs followed, and she eventually auditioned and won the part of the tough but sexy Girl Friday for Perry Mason.