The "Hungry" Years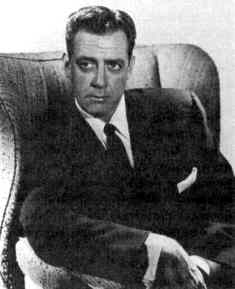 The eyes have it. The handsome lawyer in his younger days. Courtesy of the Academy of Motion Picture Arts & Science
Raymond Burr was born on May 21, 1917, in New Westminster, Canada, a city near Vancouver. His father, William, ran a hardware store in town; his mother played the organ in church and in movie houses. When Ray was just a baby, his father became a trade agent and traveled to China, taking his family with him. But upon returning to Canada, he and his wife separated. From the age of six, Ray was raised by his mother and his grandparents, who ran a hotel in Vallejo, California.
Although his parents later remarried, Burr spent a good part of his adolescence picking up odd jobs to help support his mother and his younger sister and brother. He has said he went hungry many times in his youth. At age thirteen, he was a ranch hand in Roswell, New Mexico. Later, he became a traveling photo salesman, a manager of a chain store, a deputy sheriff, an agent for some property his grandfather owned in China, and a fire guard for the Forest Service.
Though Burr was an avid reader, his schooling was, for the most part, improvised. This included adult education courses at Stanford, Columbia, the University of California and, for a time, Chungking University. The effort finally culminated in a master's degree in psychology.
A youngish Raymond Burr leaps into his mode of transportation in the early days of the show: a rugged Willys jeep. Courtesy of the Bettman Archive
Although he starred in a church play when he was ten, and haunted the smaller theaters in San Francisco in the early 1930s, Burr's first serious foray into acting came in 1936. Then nineteen, he met film director Anatole Litvak, who arranged for him to work in a summer theater in Toronto. A tour of Great Britain as part of a repertory company soon followed, as did a trip to Australia. Later, he landed a job singing in a nightclub in pre-World War II Paris.
While he was touring with the repertory company, he met and married his first wife, an Englishwoman named Annette Sutherland. They had a son, Michael Evan, who was raised by Annette's parents in England. While his wife remained in Europe, Burr returned to New York, where he set out in search of better roles. Producers showed little interest in him, though, and once again he was forced to work odd jobs to support himself.
He finally got a part in the play Duke of Darkness, but because he had been locked out of his hotel (for nonpayment) and couldn't get at his baggage, he was forced to rehearse for two weeks in the same clothes. The play opened, and Burr's reviews were good enough to attract the attention of an agent named Edith Van Cleve. She got him to go to Hollywood. Once on the West Coast, he directed nine shows at the Pasadena Playhouse, but then he returned to Broadway and later played a season on the stage in Denver. He was grateful for the stage work, but his dream was to act in films. He continued to look for movie parts and in doing so, continued to struggle. One drawback was his weight; everyone told him he was just too plump to land any major roles.
This was 1943, a tragic year that would turn out to be one of many such in Raymond Burr's life.
Webmaster's Note: Visit Biography.com for a recent biography of Raymond Burr.