Perry vs. Perry and the Cartwrights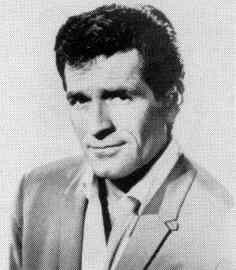 Hugh O'Brian, one of the four actors who filled in while Raymond Burr was hospitalized during the sixth season, appeared in "The Case of the Two-Faced Turn-about." Courtesy of Capital Newspapers
The question now was where to put it. NBC and CBS had been jousting for the lucrative Saturday night prime time audience for a few years. NBC's Perry Como had beaten out CBS's heavyweight Jackie Gleason in the eight to nine Saturday night time slot in 1956, after besting "The Honeymooners" half-hour show in 1955. When Gleason announced he wasn't returning for the 1957-58 season, CBS weighed in with Perry Mason, originally intending to put it in the eight to nine "counter-Como" slot. This in itself was unusual, as mystery series were usually reserved for the late-night nine to ten or even ten to eleven slot, when the kiddies were in bed.
Then, the Purex Corporation (as in bleach) proposed an idea. It promised to sponsor "Perry Mason" on alternate weeks if the show started a half hour earlier. The hope was to capture viewers thirty minutes before Como launched into his famous theme song, "Dream along with me. . . take me to a star." CBS agreed to the scheme, and premiered the first episode, "The Case of the Restless Redhead," on September 21, 1957, at 7:30.
Variety, the universally accepted bible of show business, liked the first story, reporting: "It was deftly handled, never farfetched, and unraveled with simple clarity." But the newspaper was less enthusiastic about the cast. Raymond Burr's Mason looked like "a wholesome resident of suburbia on his way up the executive ladder." Barbara Hale's Della did little more than "fetch coffee and sandwiches for her boss." Concluding that the premiere was merely a "competent if unexceptional boiler," the paper predicted Mr. Mason "would not offer serious competition for Mr. Como."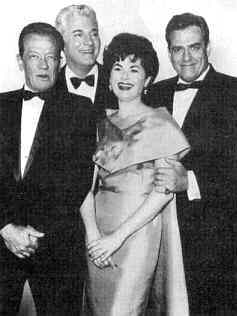 The famous Mason foursome. Courtesy of the Bettman Archive
Variety turned out to be wrong. Viewer interest in the show picked up and TV Guide blessed it by midseason, saying: "[With] brisk direction . . . and such permanent assets as Burr's rugged interpretation of the dogged Mason . . . there's no reason why Mason shouldn't go on enjoying its popularity." By the end of the second season, the viewers

a jury of twenty-five million-came in with a favorable verdict. "Perry Mason" was in the top twenty Nielsen shows, and Perry Como was looking for another time slot.
By the 1959-60 season, "Perry Mason" had jumped to the Number 10 Nielsen spot, despite the fact that NBC countered with a new show about a wealthy cowboy family that owned most of Nevada. "Perry Mason" and "Bonanza" went at it for two season Mason slipped to the Number 16 spot in 1960-61, with the second-year "Bonanza" hot on its trail at Number 17. But in 1961-62, NBC blinked and moved the Cartwright boys to Sunday nights. At last crowned the undisputed king of (early) Saturday night TV, "Perry Mason" zoomed up the charts to become the Number 5 top-rated show for the season.